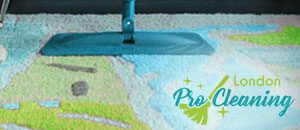 Carpets usually are used to provide the final touch of the premise, but this is possible when these soft floorings look nice and maintained. Otherwise, they can be the hidden "killer", which looks harmless, but that is only what you see on the surface. Believe it or no, tucked between the gentle fibres, there is a whole animal kingdom of all type of allergens and bacteria. The regular vacuum cleaning is a must, but it is not enough. You need our professional carpet cleaning services, which help the residents in North West London to have healthy indoor conditions.
Besides being knowledgeable, we are also experienced, which definitely matters for this trade. Our competence is acquired through the countless of cleaning assignments, which we always accomplished with the complete customer satisfaction. Over the years, we have met many challenges, but our strive to become the role model of perfection has always been our motivation. That's why we never give up, no matter what. We accept every challenge as an opportunity to verse our skills.
One of the real reasons to be that excellent is our workforce. We realise that they are the people, who go to the battlefield, ready to defend our reputation and leading position on the market. That's why we are restless to encourage and support them in any way. Every time they come, they are absolutely ready to start with the job straight away, without whining and lingering. The carpet cleaning services, which we offer in North West London are approved as absolutely safe.
Where we truly stand ahead our competitors is the calibre of cleaning equipment, which we have at our disposal. All of our cleaners are fully supplied with the most qualitative instruments and detergents, which are absolutely safe for your health. Being environmentally responsible, we use no chemicals, which can harm your health.
Request more information about us by giving us a call. Our support centre is always at the disposal of your questions, regardless of day and time. With us, you just need to tell us your wishes and we do it. Our carpet cleaning services in North West London are available on working days, weekends and even bank holidays. Get rid out of the fear that we will spoil your budget, because we are more than modest. Let us work for your health!